#livenaked :: Top 6 Live Naked Photos
#livenaked. So simple. So free. Imagine a world where everyone was… well, naked. Folk magazine started yet another enticing hashtag and this one is currently populating the platform with pictures of scantily clad frolicking across mountain tops and bums on beaches and beyond. I dig it, and I'm not the only one.
Explicit nudity is prohibited by Instagram's TOS which makes the hashtag especially exciting for the Instagram rebels out there. #livenaked shows the ease of being naked without the edge of being nude. It shows that being naked is just a way of life and captures the moments that simply are. There is no curtain, no ta-da moment. Just nakedness, in it's most casual form.
#6
Here, in this photo by @ponygirl_the beauty of the tag lays in the touch of her skin, the breeze in the grass. It draws you into the warmth of the day, the heat of the moment.
#5
Photo by @_noel_alva. Great fun and creative photo!
#4
Photo by @deanraphael. This is just an amazing photo by a very skilled photographer. Check his website out!
#3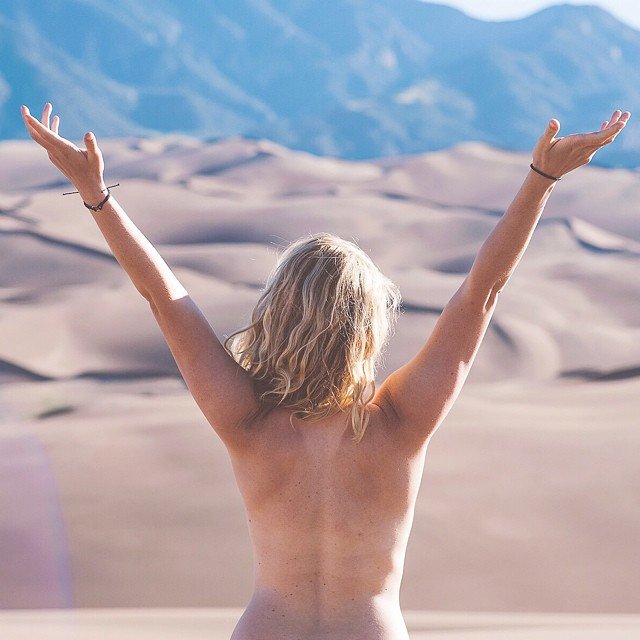 Photo by @sashajuliard. Warm and happy mood and greeting the world with boobs.
#2
This ins't a female only tag, guys can have fun with it too. They just might have to show a bit 'o bum. @saltyapparelusa
#1
Perfect example of #livenaked by @katieboink. Someone just living…NAKED.